So as I mentioned yesterday, the sailboat quilt top is done!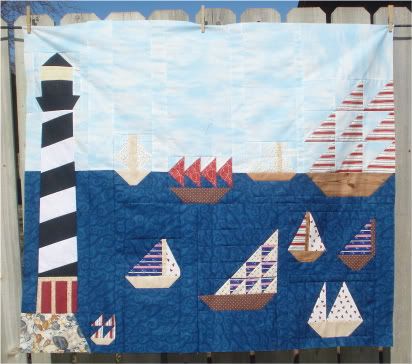 I was wrong about the piecing - the water went together way faster than the sky. But at least that meant I got the hard part over with first!
There are a few places I wish there were less seams, or I had spent more time making sure the water "flowed" the right way, or I hadn't used the lightest colored sails against the sky, but overall, I'm pretty happy with how it came out.
It's about 50x45" - I'll get a better measure after I starch and press it.
I named it "Come Sail Away" because when my parents go on a cruise, my dad always calls as the ship pulls away from the dock to sing that song. Yeah, we have some weird family traditions.