This will also suffice as my weekly report, since I haven't done much worth reporting. Ah, the joys of prepping a house to sell.
Family: the black cat started an extensive chemo program at OSU, and is responding really well to it. Every minute of cuddles is worth my entire fabric budget.
The Dude was Star Student this week. I think his brainwashing is complete.
And after a yard sale this coming weekend, I think the house will be ready to go on the market. Deep sigh.
Adoption: our agency's first cases of the year go to court soon, so we should have a better idea of the timeline soon. Meanwhile, our I-864 got lost, so I'm copying tax returns...again.
Running: another month, another half!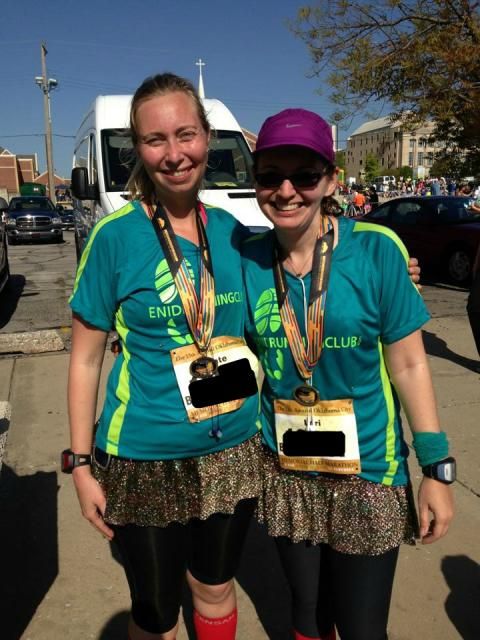 Oklahoma City Memorial Marathon - 2:33 and a PR for Lori! We did shots of vodka at mile 6.4...which was about 8 am. Obviously we take running seriously.
I made the sparkle skirts, mostly because Team Sparkle doesn't have a rainbow one. They were...less than perfect. The rainbow "fabric" has zero stretch to it, unlike the colors. If I had to do it again, I'd make casing - it's just as easy as zig-zagging the elastic to the fabric.
Other sewing:
I finished piecing the top of the fireman t-shirt quilt, and it's about 75% quilted. Should be done by the end of the week...which is not quite by the end of April, but pretty close.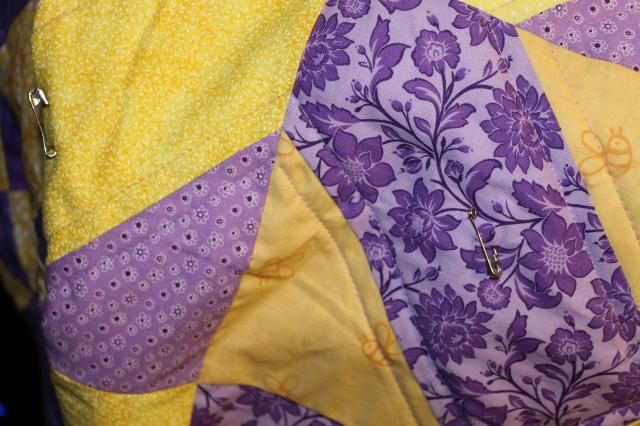 All of the quilting is done on the Fractured Four Patch, and the binding is prepped, but it's in the queue behind the t-shirt quilt, so it waits.

I also said I would finish Boardwalk, Cat Tails, and Saturday Sampler - all of which were hardly touched in April. {Boardwalk had brief moments as leader/enders.} I seriously underestimated the amount of work the house would take. {Go ahead and laugh.}

Sadly, didn't even cut any green for my Rainbow Scrap Challenge. And I only did a NewFO if you count the fireman quilt...technically it was started in April!

Goals for May:
1. Quilt Rainbow Sherbet - and delivering it to my MIL at a wedding...Mother's Day weekend...

2. Finish the fireman quilt and Fractured Four Patch.

3. Start/finish another running t-shirt quilt. {Momma's gotta pay for chemo!}

4. Finish one of the above mentioned tops. {Boardwalk, Cat Tails, Saturday Sampler...one of them...any of them!}

Linked: