I rocked my fifteen minutes this week, finishing two projects in the allotted time.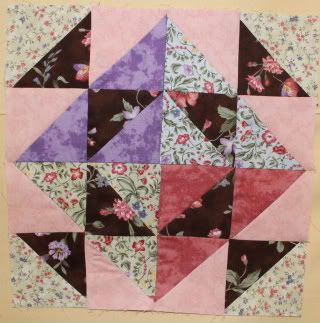 Tuesday-Friday I worked on my LQS Saturday Sampler block. Which, nice block, bad color choice. I hate when the pattern puts the larger-scale brown in small pieces. It's okay for fussy cutting 2" or so squares, but not in HST.
On Saturday, I pulled out a Halloween project from last year that just needed binding. Better late than never, right?
Halloween is my favorite holiday, and the Peanuts special is my favorite Halloween show. (Because there's so many other options.) So when I saw the book panel at Joann's, I had to grab it.
Of course, it's not printed straight, which made the piecing very difficult, and I ended up abandoning it just before Halloween last year.
I prepped the binding with flange as if it were piping or rick rack - I definitely don't prefer the flange, but I didn't want to go to the store.
The Peanuts backing fabric and binding are also Joann's. The sashing and flange are from Hobby Lobby.
Now I just need to sneak the ladder inside so I can hang it, but avoid replacing the light bulbs in the kitchen.