I know, I skipped a block. I'm not sure what I'm doing for Block Six - I don't really like the block. I'm trying to figure out something similar.
Like, say, Block Seven. I really liked the design. Didn't like the border.
I tried to figure out the ratio to enlarge the triangles (let's see, if the square is 2.75" and mine will be 3.5", that means it increased by...uh...) Then when I looked at the sketch of the block in 12.5", I realized it could be done in half square triangles.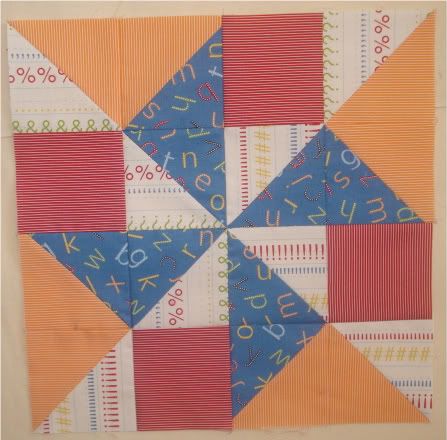 Oh my goodness, love love love this one. Love. All the stripes even worked out. Love.
I also made this, which makes me quite proud.

No pattern, I just built Hatteras Lighthouse based on pictures. It's even slightly tapered - the base is 5.5" wide; the top is 4.5" wide.
It goes in my nephew's sailboat quilt, hence the waterline.
I'm entering both in the Block Party. Check it out, there's lots of cool blocks listed!