I finished
the stripwork
just in time this morning, even though I had to quick cut and sew an extra fat-quarter-size set. Go figure, randomly slicing into yardage and fat quarters without planning isn't always the best way to do things!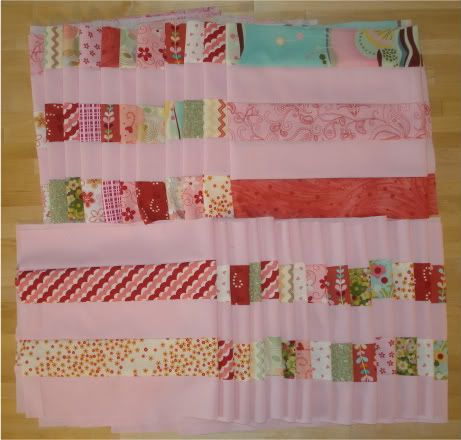 I've added a couple new fabrics, mostly playing up the greens and aquas.
My strips include:
Bloom & Grow (My Mind's Eye/Riley Blake)
L'Amour and/or Candy Kisses (Sandy Gervais/Moda)
Whimsy (Fig Tree/Moda)
Hunky Dory (Chez Moi/Moda)
Oz (Sanae/Moda)
Love Letters (Sharyn Sowell/Clothworks)
Simplicity (3 Sisters/Moda)
Time to get moving on
the patchwork
! In between sewing sashing on those t-shirts...