Finally! I finished the top and first two borders in May... Bought the third border and backing in June... And then ignored it all summer.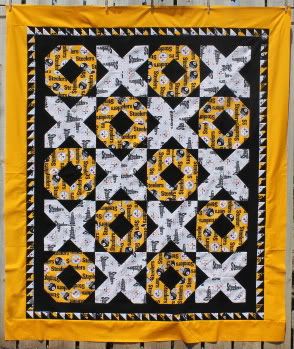 I'm glad I went for the third border - those tiny HSTs were a pain to sew along and would have been awful if I were binding on them. Now I have a nice clean edge to work with.
It measures 55x65" and I have a minkee back all ready to go. Love minkee on this size quilt - it's 60" wide so I don't have to piece it.
I won't be basting or quilting till after Labor Day, though - my husband still thinks it should be a surprise!