This week was a bit of a haul, but it's all stuff for projects I'm actively working on, and some will go right back out this week. Right...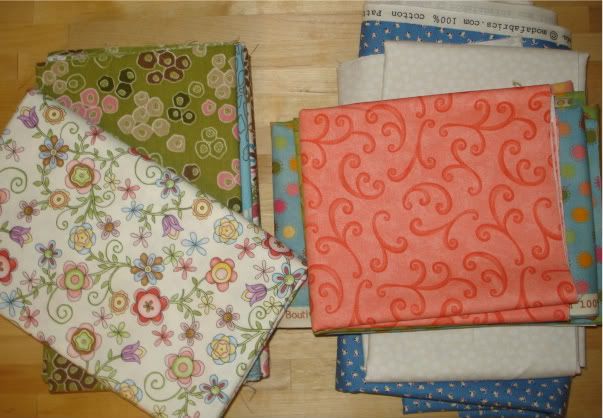 On the left, 5 half-yards of Mon Sheri for my Hunter's Star; one yard of Henry Glass Sewing Room Social for the knitting stuff my sister wants me to make.
On the right, 2.67 yards of Boutique to add to the Frolic pinwheels - this includes backing, though. Three-quarters of the neutral dots for sashing my Layer Cake Quilt Along; 1.75 yards of Happy Campers for LCQA borders.
Unpictured is 30" of black Kona for the Steelers quilt and a yard of pink Kona for the Hunter's Star.
There was a little bit of out in a purse that I don't have good pictures of yet. Stay tuned!
Used this Week: 2
Added Year to Date: 69.96
Net Used for 2011: (21.08) yards
Check out how everyone else is doing on Patchwork Times!