I missed last week in the whole "drive to Virginia" thing, but I'm back! In, um, California!
We are mostly settled into the hotel with my husband. I haven't sewn yet, but I'm going to send the boys to the pool this afternoon so I can have some quality quiet time. Interspersed with doing my husband's laundry.
So no finishes in the past two weeks, but a couple of purchases and wins!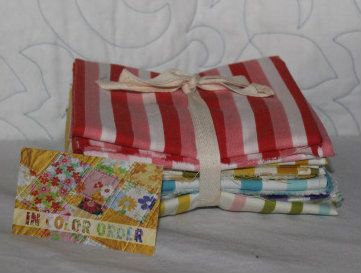 I also snatched up some of the cream background fabric for
my Saturday Sampler
when my LQS put it back on the shelves. And, since they only had about five cuts of the backing fabric left, I grabbed one of those, too. So now I'm set to finish that...in the fall.
Used this Week: 0
Added Year to Date: 108.99
Net Used for 2012: (47.67) yards