There would be more here, but DH convinced me to join him in Texas for a conference instead of going to the Oklahoma City Quilt Show.
So yay for family time, boo for buying lots of yummy fabrics I don't need. I guess. The family time has been a LOT of fun - we got to see an emu attack a car!
And before we left, I made this.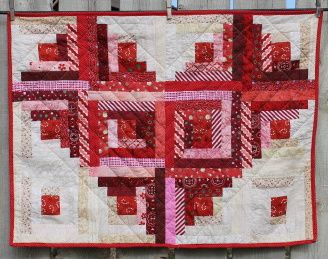 It's a heart made out of log cabins, and oh my goodness, I am addicted to making these now. More details when I get home - it was done entirely from scraps and stash.
Used this Week: 1.75
Used Year to Date: 1.75
Added this Week: 0
Added Year to Date: 0.25
Net Used for 2012:
1.5
yards
I'm in the BLACK!
Check out more reports at Patchwork Times!