I finally got the last border on the
Steelers Quilt
! Although I counted most of the top out when I finished that, so I just get to count the last border.
I also mailed off four giveaway fat quarters. Enhancing someone else's stash report!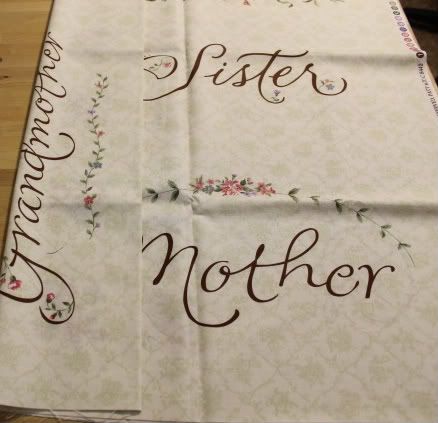 My LQS gives you 15% off for your birthday, so I picked up...almost nothing. I guess that's what happens when your birthday is so close to Fat Quarter Frenzy. I grabbed two yards of my favorite neutral, a half yard of the neutral in my
Tennessee Waltz
quilt, the panel for my
Saturday Sampler
, and the next sampler block. The panel says Mother, Daughter, Sister and Grandmother - it'll be pieced into the backing.
Used this Week: 1.88
Used Year to Date: 92.85
Added this Week: 3.42
Added Year to Date: 139.62
Net Used for 2011: (46.77) yards
Check out how everyone else is doing on
Patchwork Times
! Judy's challenging us to set a higher goal in the last four months of the year. I'd like to get into the black, so that means busting a little more than half of what I've busted in eight months. (Assuming no new purchases...)
In addition, my husband and I started a pay-per-mile running program. Run a mile, get a dollar - his for computer games, mine for fabric. Luckily, we made the deal on Wednesday, the day after I picked up my neutrals. So now I really have to earn each yard...or work from my stash.