I was going to be good and not buy the backing fabric for "Bad Romance" until Monday, since I knew I wasn't going to get the kitchen floor clean enough to baste until Monday.
But, you know how it goes. The LQS had a sale. 20% off if you finish a bolt four yards or less. I needed 3.33 yards for the backing, so I had to find a bolt that was over 3 but under 4 yards.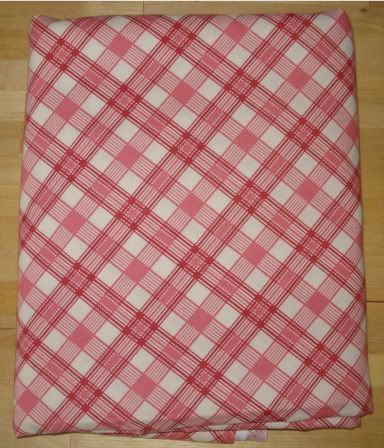 3.75 yards of perfection! (RJR Momma's Apron Strings)
All the right colors, and the plaid echoes the postage stamp in the top.
I also picked up the kit for the next block for the Saturday Sampler.
Used this Week: 0.0
Used Year to Date: 18.39
Added this Week: 4.0
Added Year to Date: 37.27
Net Used for 2011: (18.88) yards
So I'm still under 20 yards up, and I will be very motivated to finish projects once the Dude gets back to school on Monday!