I've been doing a lot of binding this week, and true to my contrary nature, this just makes me want to start a new project. So what if I have three near-finishes? I want to be piecing!
I managed to cure that - slightly - by piecing my Jack's Chain nine patches for February and March. Seems like a good way to do these - two months at a time and only drag out the box once.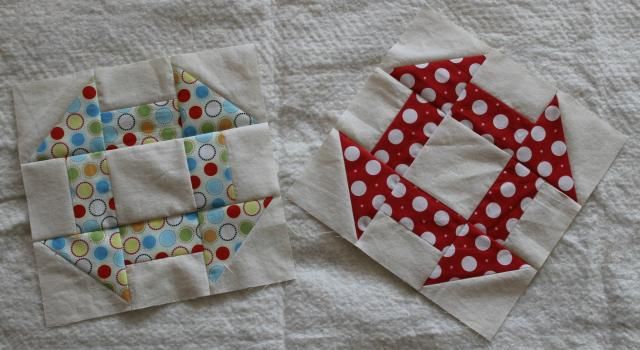 And I finished MY LAST TWO CHURN DASHES! That's right, that's all of them. RSC'14, complete! Well, once I sash 'em...and quilt 'em...and bind 'em...but hey - blocks are at least half the battle, right?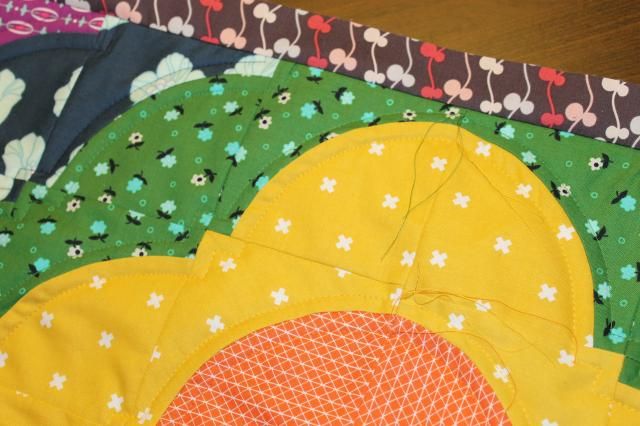 And onwards to the finishes and near-finishes. My #rainbowminiswap is quilted, bound, and ready for hand-stitching and cleanup.
Rainbow Chevron is bound and ready for hand-stitching and cleanup.
My t-shirt quilt has the back panel stitched back in, and by now, has been re-quilted and is ready for cleanup.
In other words, I need to be doing some cleanup work. However much I'd rather just start a new project.
Somewhere along the way, I finished off the top I started on the Quilts of Valor sew day. I screwed up the setting somehow - the white/red squares were supposed to run top left to bottom right. But it still works.
This is based off a pattern from McCall's Quilting magazine, modified to fit the QOV requirements and the fact that I had a bunch of 2.5" strips. It's been handed off to my QOV coordinator and I probably won't see it again until it's presented to a veteran.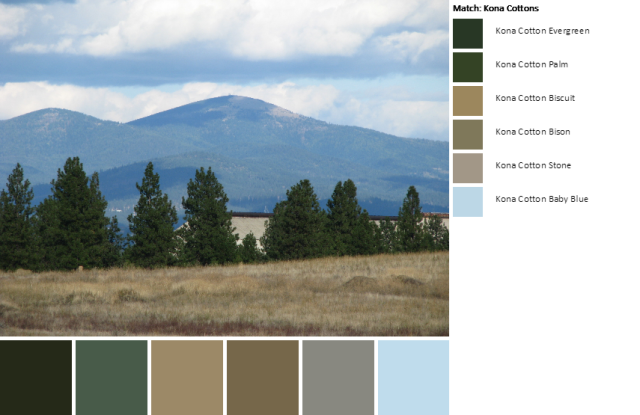 And the color palette for the week...isn't the prettiest. But the theme is home, and this is the view from my backyard. Well, not exactly my backyard - I went to get a quick picture, and of course, it's clouded over Mount Spokane. But normally, I can sit on my back porch and look at my mountains. And it's the mountains I miss when we're not living in Spokane.
Once my husband comes home from this deployment, it's time for us to start making the "where next?" list, and there's not a lot of mountains at the places he's mentioned. So I intend to spend this summer in my backyard, soaking up all the mountain time I can get.
See also: Oh Scrap @ Quilting is More Fun Than Housework, BoMs Away at What a Hoot, the Rainbow Scrap Challenge at So Scrappy.