I quilted and bound two quilts last week, so I was all set to have two finishes to check off my list. Until I stuck the t-shirt quit in the wash.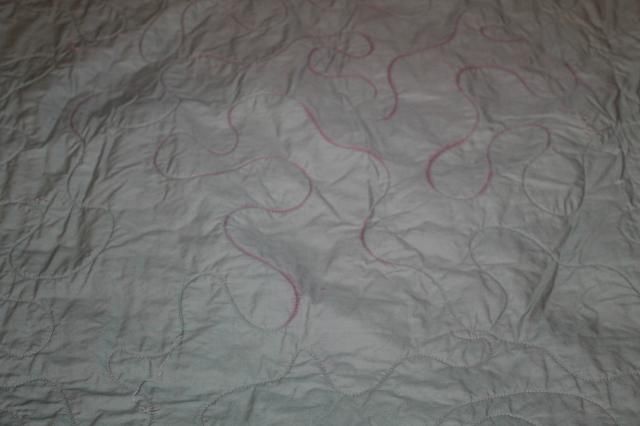 Yikes. Yep, that's the central t-shirt, a tie-dye shirt that apparently still had a lot of dye in it. I ended up ripping out all the quilting in that section, ripping out the t-shirt from the front, and washing it a few more times in hot water with color catchers. It finally stopped bleeding after SEVEN washes.
I tried a couple different stain removers for the back, but came to the conclusion that the easiest solution would be to cut this portion out and replace it. Luckily I have plenty of backing fabric...and shows on my DVR to watch as I hand-stitch everything back into place.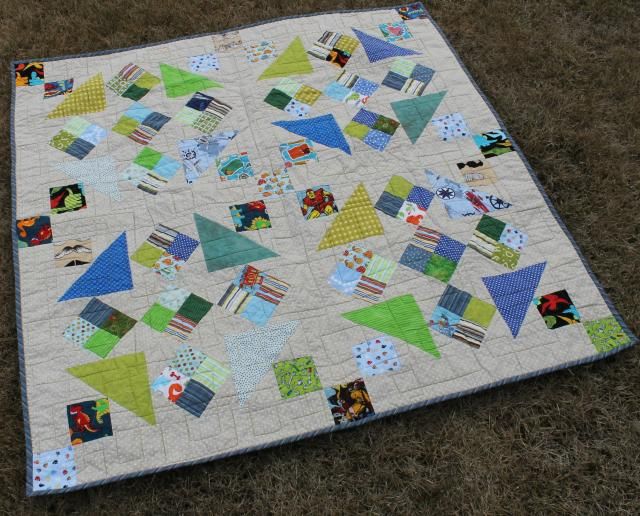 But hey - in the meantime, I finished off Five Spot! Renamed it "What Air Force Boys Are Made Of" and shipped it off to Germany.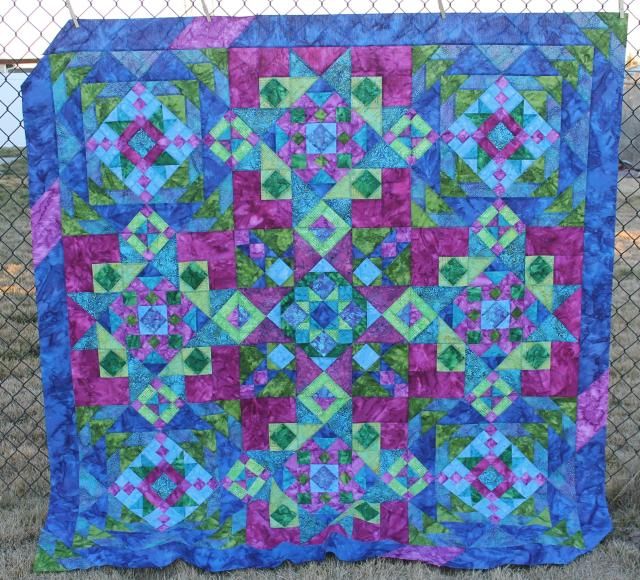 In between ripping out stitches, I got to work on January's Ripples and Reflections step. I put it off because I knew it was assembly...and that means finding out how well I got all those pieces together. I only had to rip out and turn four little triangles! Okay, and all the blocks when I realized I put it together wrong...but at least they were only rows at the time, not this whole section.
The borders were the only new fabric, clocking in with 12 new pieces and 3.75 hours of ripping...I mean, work.
And I believe this entire section gets turned on point in the next step. Yikes!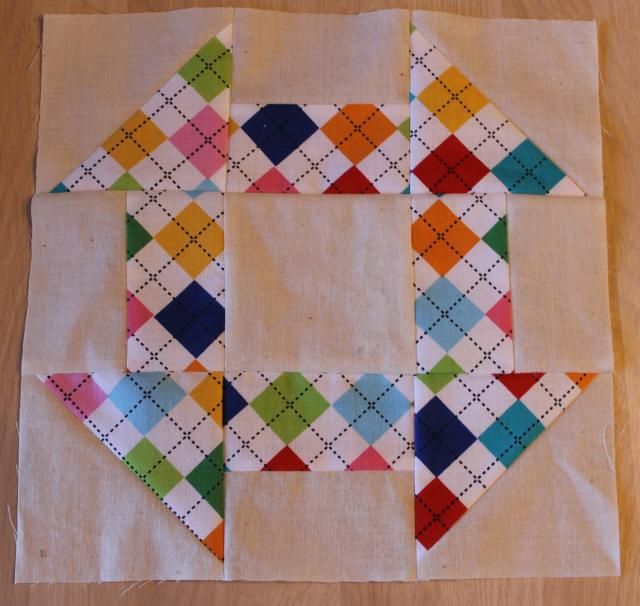 And as a leader/ender, I got one whole Churn Dash together! Okay, not that impressive. But the last two are partially pieced and they should be done this week, which means I'll have all of them ready to become a quilt! Finally!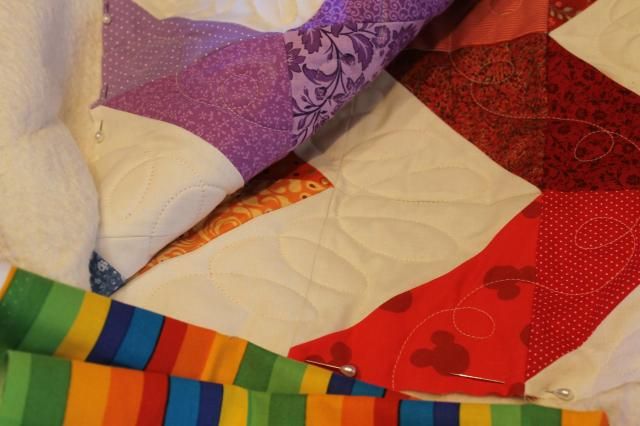 Oh, and speaking of rainbows, the second quilt I quilted (Five Spot was actually quilted a while ago) was my Rainbow Chevron. And man, it looks pretty awesome for my usual loops. I also busted into my Dr. Seuss stash for another Porch Swing Quilt pattern, and found these awesome rainbow FQs. Perfect binding!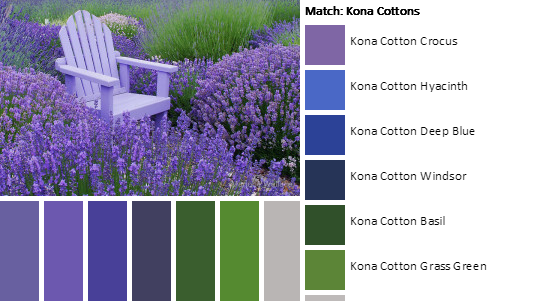 And the color palette is "beautiful" - which was heavily purple for Jennie, which made me think of lavender. And now I kinda want to make a green and purple quilt. The final color, cut off for some reason, is Kona Ash. Perfect blender. Someone find me a pattern, I need this quilt!
See also: Oh Scrap @ Quilting is More Fun Than Housework, BoMs Away at What a Hoot, the Rainbow Scrap Challenge at So Scrappy.