I'm back from our adventures on the East Coast! My mom's sewing machine was under a pile of construction, but I did get some hand stitching done at their place.


Mom taught me to blanket stitch so I could fix my sister's Cinderella quilt. So far, I stitched the shoe in place and started ripping out the words. See the words in the light pink? No? Yeah, that's why they're out.

At my MIL's, I visited her neighbor who imports threads from Germany. My thought - uh, Gutermann? Nope, turns out it's hand-dyed, artist palettes, all kinds of weights and decorative things that I don't understand. But I understand sparkly and now I have a small sample to play with. As soon as I learn a running stitch.


I also did a lot of binding stitching and got my mother's table runners finished. I'm working my way around the daisy ones next, and then I still have a nice stack waiting to have binding stitched to the front. Sigh.


Once I got home, I pulled together the rows for Luscious Picnic. And a bonus doll quilt from the scraps. And the backing, and the binding, and it's all ready to go when my babysitter comes back.


Then I made five of the flannel stars for Grandma's quilt. I'm going to try to knock out five a day, because that's all I can stand of trimming flying geese.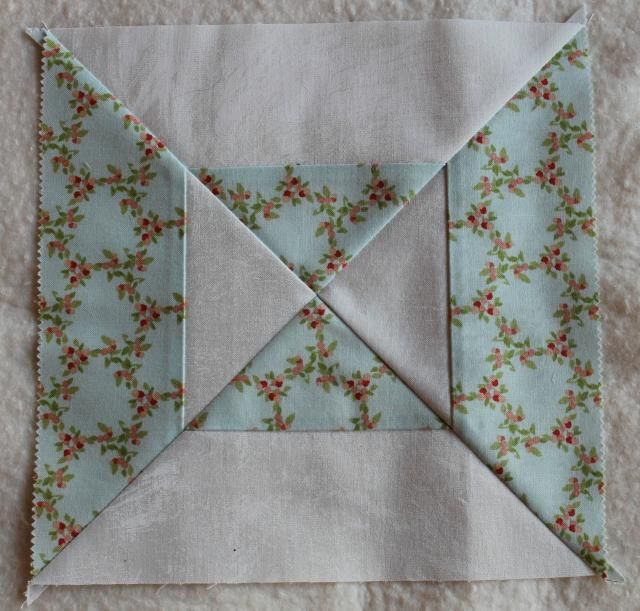 And California Girl became my leader/ender project, and goodness gracious, she is perfect. LOVE!


Full disclosure moment. What I have to deal with every time I want to take a picture.


And then I realized I hadn't done any BOM stuff. I don't know where I am on churn dashes because it's green...again. Apparently May was emerald green and August is bright green, and all of my May ones were bright, so...maybe dark green? Maybe something totally different?

Anyway, instead of making a decision, I whipped out Part Five for Ripples and Reflections. I had to skip steps because I miscut Fabric Nine. It's been replaced but not yet recut. This step was fairly simple, but as there's sixteen of them, fairly boring.


And finally, my blue palette, borrowed again from Lori Barbely Photography. She goes to Maui and takes these gorgeous pictures, and all I get is a couple yards of fabric. Not fair. And look at those Kona names! Oasis, Breakers - yes!

Linked:
BOMs Away Monday @ What A Hoot
Design Wall Monday @ Patchwork Times
Color Mondays @ Porch Swing Quilts
Linky Tuesday @ Freemotion by the River
WiP Wednesday @ Freshly Pieced
Rainbow Scrap Challenge @ SoScrappy
Slow Sunday Stitching @ Kathy's Quilts
Fabric Frenzy Friday @ Fort Worth Fabric