Not much done this week, because my sister is in town, mostly to babysit the kids while I went to Priest Lake, Idaho, for a half marathon. And she wanted me to spend time with her, and the weekend was a little busy with the running and subsequent napping. Not to mention the cabin we stayed at had no WiFi and no cell phone service, so I couldn't finish up the giveaway. So here you go - a winner - Christine, a fellow Korean adopt-a-mom!
In sewing, I squared up and started binding Wee Wander. I'm attempting the Red Pepper method, and it's...okay. I'm missing the back side a lot more than I'd like, but I always do 3/8ths on the front, so I suppose if I did 1/4ths like I'm supposed to, it would work better. I'm trying to decide which would take longer - removing all the binding and starting over, or restitching the missed spots.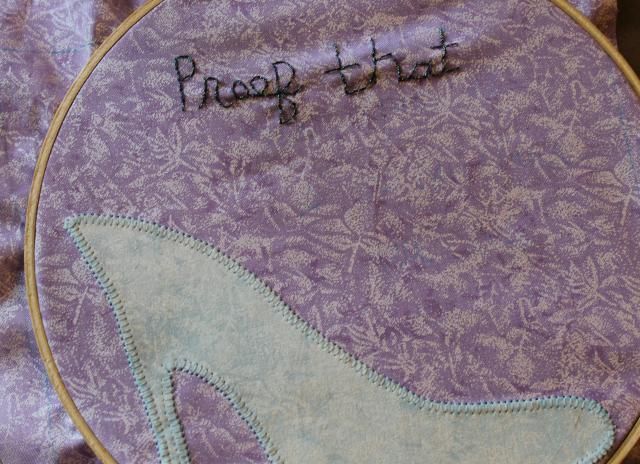 I fixed the Cinderella shoe, reapplied it, and started stitching. And I'm a little panicky because the end of September is really close and I've never missed a AYOLF goal yet! I guess I'll be stitching all day. Yes, I know my lettering is uneven. That's part of its charm, mmkay?
And that's it for sewing! I'll get back into it tomorrow when my sister heads home. And once Cinderella is stitched...
But before I go, my color palette for the week! Brown, and Jennie covered about all the brown food I'm dreaming about. {Hey! I'm still in half recovery!}
So I went with the resort we stayed at this weekend, and the gorgeous colors of a lakeside cabin. I could live here forever. {If there were WiFi.}
Linked: BOMs Away Monday @ What A Hoot Design Wall Monday @ Patchwork Times Color Mondays @ Porch Swing Quilts Linky Tuesday @ Freemotion by the River WiP Wednesday @ Freshly Pieced Rainbow Scrap Challenge @ SoScrappy Slow Sunday Stitching @ Kathy's Quilts Fabric Frenzy Friday @ Fort Worth Fabric