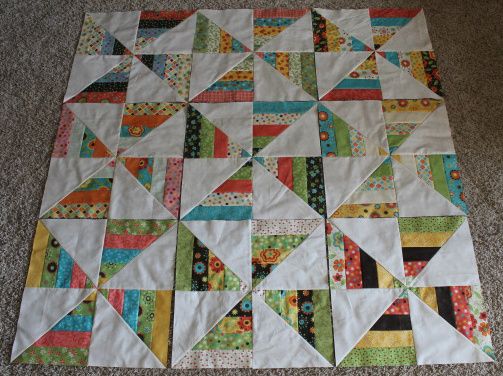 It hasn't really been touched since
I sliced off part of my finger
while working on it. Mostly for that reason, but also because I dislike squaring HSTs bigger than my 6" ruler. So over the past week, I fixed and cut the last two strip sets, and sewed the last four pinwheels, no more than one per day.
Now I just need to decide on a layout - sashing or not?
Regular Quilts:
Hunter's Star
, round two - 56/90 dark half-blocks - and 30/90 blocks(!!)
This is the only time you'll see it on the design wall. It doesn't need to be laid out, and at 9x10 10" blocks, it won't fit anyway.
Quilt-Alongs:
The cow print being the primary offender. This makes the black Ohio Stars not stand out as much. Solution? Tape off the irritating QST and hand the Dude a black marker.
These are clouds, so I'm told. And see how the cow print on the left needs the same treatment?
Made in Cherry
- my new sewing room has a big open wall, and I'm going to fill it with a big scrappy star made of these. Actually, a small one - I'm cutting my squares to 2.5" and should end up with about a 40x40" wall hanging.
Untouched This Week:
Awaiting Quilting:
New Projects: 2
Completed Projects: 0
In Progress: 16
Linked: