Finally, my finger is near recovered and I had a good couple of sewing days!
Which means the cat must now sit in the sewing room to get my attention.
Steelers Quilt: pieced! It's 40x50" so I'll be adding borders. The plan is a 2" black border, then the million 2" HSTs, then... I don't know after that. Another black? A B&W?
New: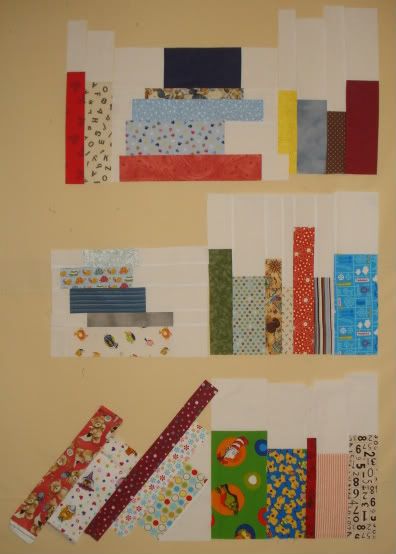 A baby quilt for the Dude's kindergarten teacher. It's from Don't Call Me Betsy's tutorial, but bigger. I'm going to have the kids sign the books, so I need at least 20, and I went wider than 1-2" books because kindergartners need a little more space to write. (Or at least mine does.) It'll end up being a three-shelf bookcase, with some stacked, some straight and some leaning.
Untouched This Week:
In Planning:
Rudolph Quilt (the Dude)
Hunter's Star (my sister)
Non-quilting:
Second Snow White commissioned.
Finished the pattern keeper/easel for my sister. Need to start the bag.
This Week's Stats:
New Projects: 2
Completed Projects: 0
In Progress: 13