I've been channeling Tim Gunn - make it work!
Charm Pack Quilt Along: for the back, I had one yard of butterflies and a 23" panel. For a 70" square quilt. Obviously, math is my strong point. So the panel was scrapped and I bought yellow Kona.
And it looks awesome. (I might be biased.)
Front and back are pieced. DONE! I've even started the basting work, with some help from Tycho to make sure the batting is properly needle-punched.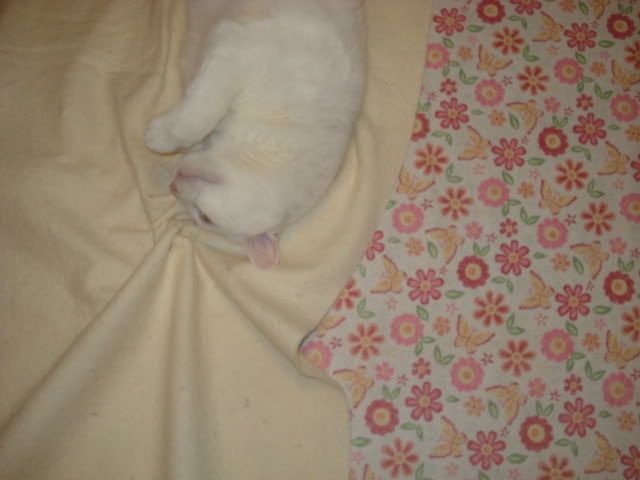 Come Sail Away: back is pieced. DONE! I hope I have enough basting pins...
Layer Cake Quilt Along
: Block 8 is picked apart, Block 5 is still awaiting a center square, no Block 6, and instructions for Block 10 were posted yesterday. (So I haven't started yet.)
Saturday Sampler: almost finished Block 2 as leader/ender.
iSpy Sliced Coin Quilt Along: cut two more strips when I was digging through a scrap bin. At this rate, I'll be piecing in 2013!
In Planning:
Steelers XO Quilt (husband)
Hunter's Star Quilt (sister)
Rudolph Quilt (the Dude)
Frolic Jelly Roll Sampler (me!)
Non-Quilting:
Snow White needs a zipper and a hem
Cow purse - have a pattern, will get moo-ving in a couple of weeks
This Week's Stats:
New Projects: 4
Completed Projects: 2
In Progress: 13 (baker's dozen!)
Check out more at Freshly Pieced!